TOUGH ON THE INSIDE
Thinskinz® are hard-shell ABS plastic shields that protect your interior doors from whatever mayhem you get into at work, or out on the trails! You can go all out and still be sure that your leather and soft-touch surfaces will be completely intact behind ThinSkinz® so you can flex your perfect interior when you get back to civilization.
MADE EXCLUSIVELY FOR REAR DOORS ONLY
"Are They Panel Replacements?"
the short answer is, no... But it really is a fair question we get asked a lot since ThinSkinz® are the first & only hard-shell, molded protectors that perfectly follow the shape of the original interior doors. They're form-fitted shields that simply slide over top of OEM panels & slide off in seconds - all without tools, fasteners or adhesives!
ThinSkinz® are impervious to bumps, scratches and tears that can result from sliding cargo or even the most formidable dog claws. We think of them more like cell phone covers - but for doors.
Perfect Match
ThinSkinz® are made to perfectly match your interior door panels.
Each skin hooks over the window sill, and securely holds itself on using its patented design and geometry.
ThinSkinz® are laser measured for a precise fit. It takes a second look to tell that there's anything on your door at all!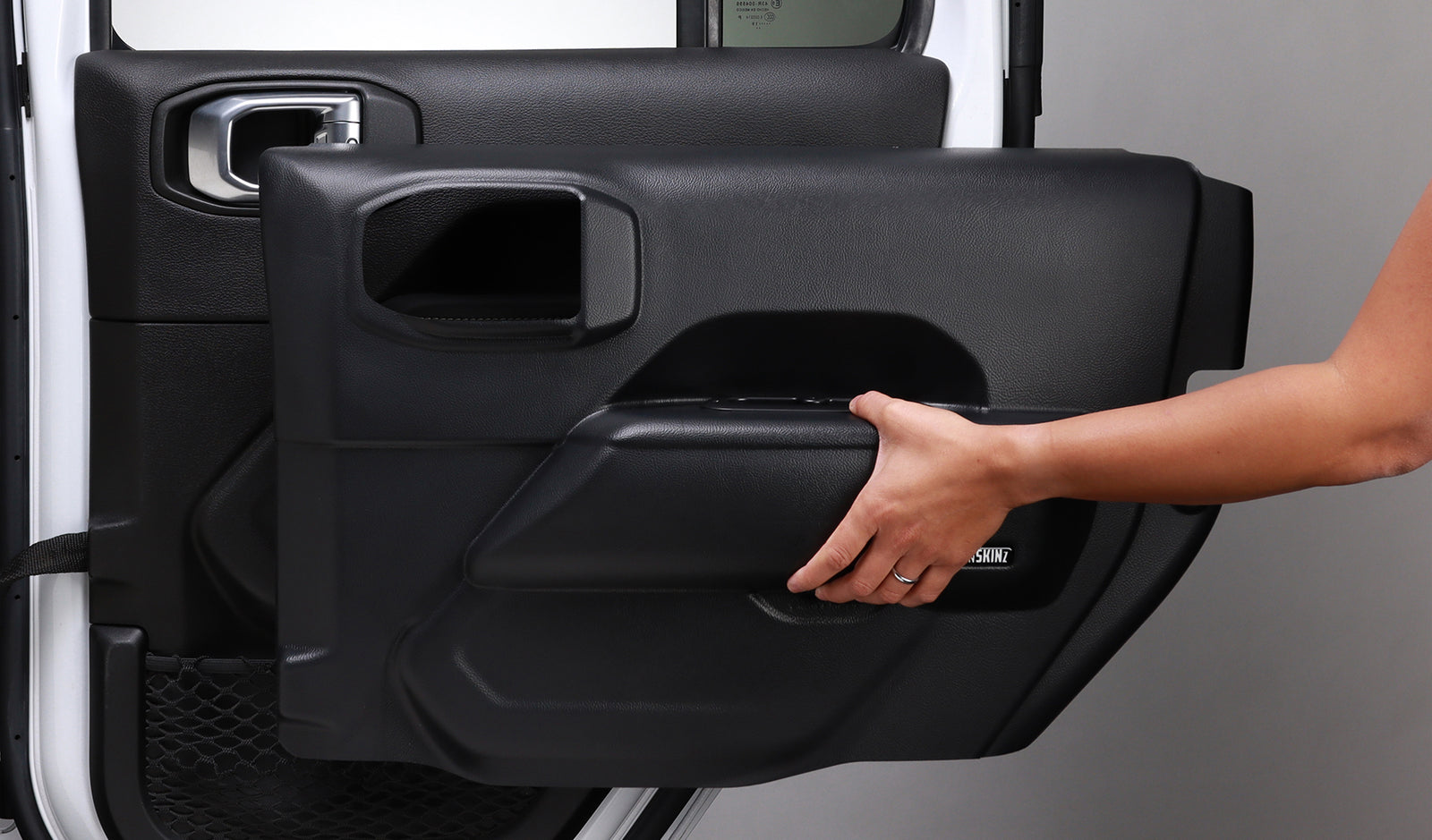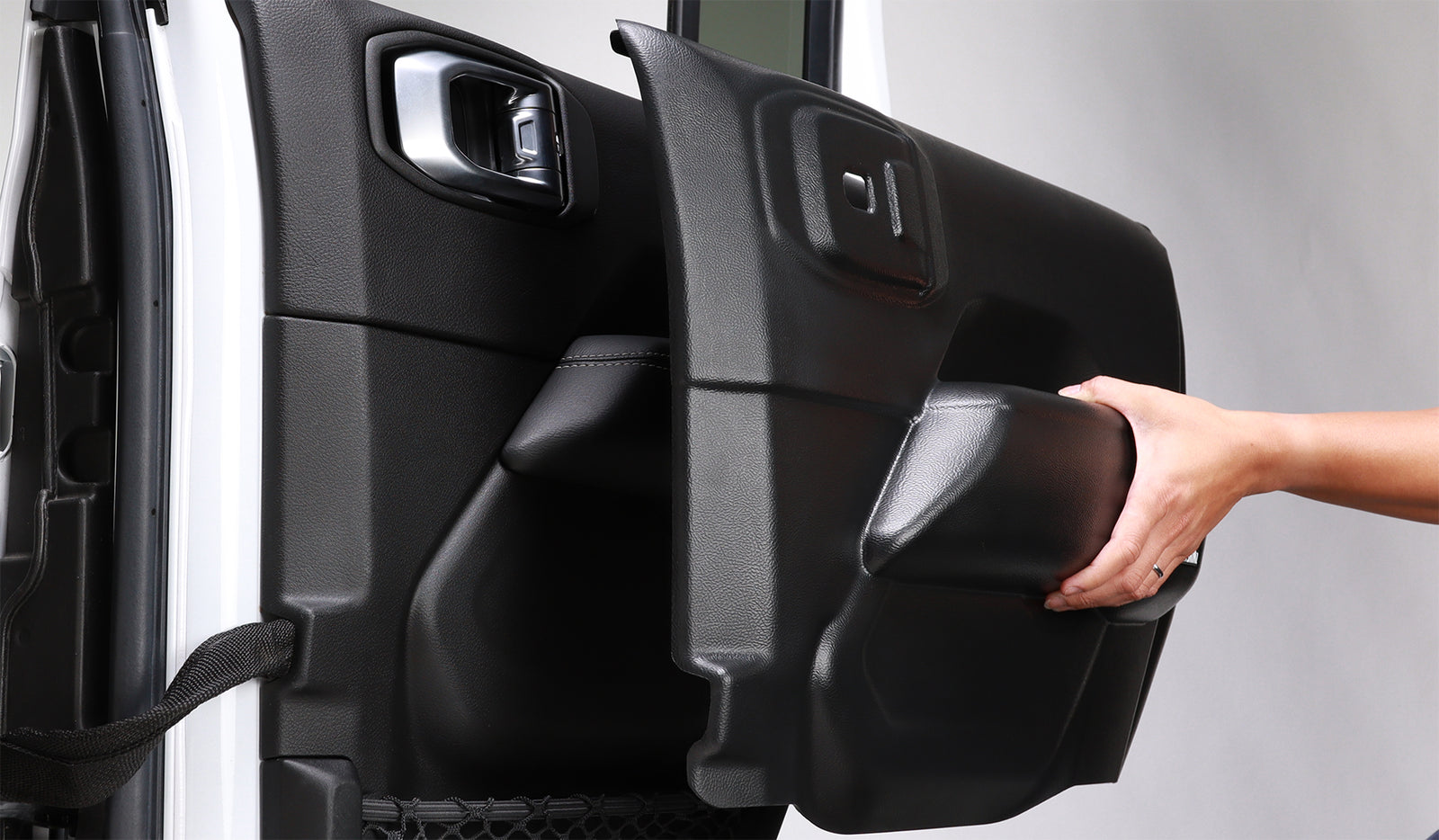 AVAILABLE IN 2 STYLES
ACCESS™ - recommended if passengers often sit in the back. Door handle is cutout and is completely usable with the Skinz on.
*Available for Jeep Wrangler JL, Gladiators and 3rd Gen Tacomas*
PRO™ - the handle is covered for maximum protection. Meant for vehicles that mainly carry cargo or pets in the back. Either way, ThinSkinz® snap off in seconds...
*Available for Jeep Wrangler JL and Gladiators only*
CHECK OUT THE BUZZ...
See what actual customers are saying about ThinSkinz® on Instagram, Facebook and Jeep Forums. Find out how people are using them.
"These are the best things ever! I can now carry my dog and have peace of mind that she won't be scratching the doors when she wants to stick her head out."
Las Vegas, NV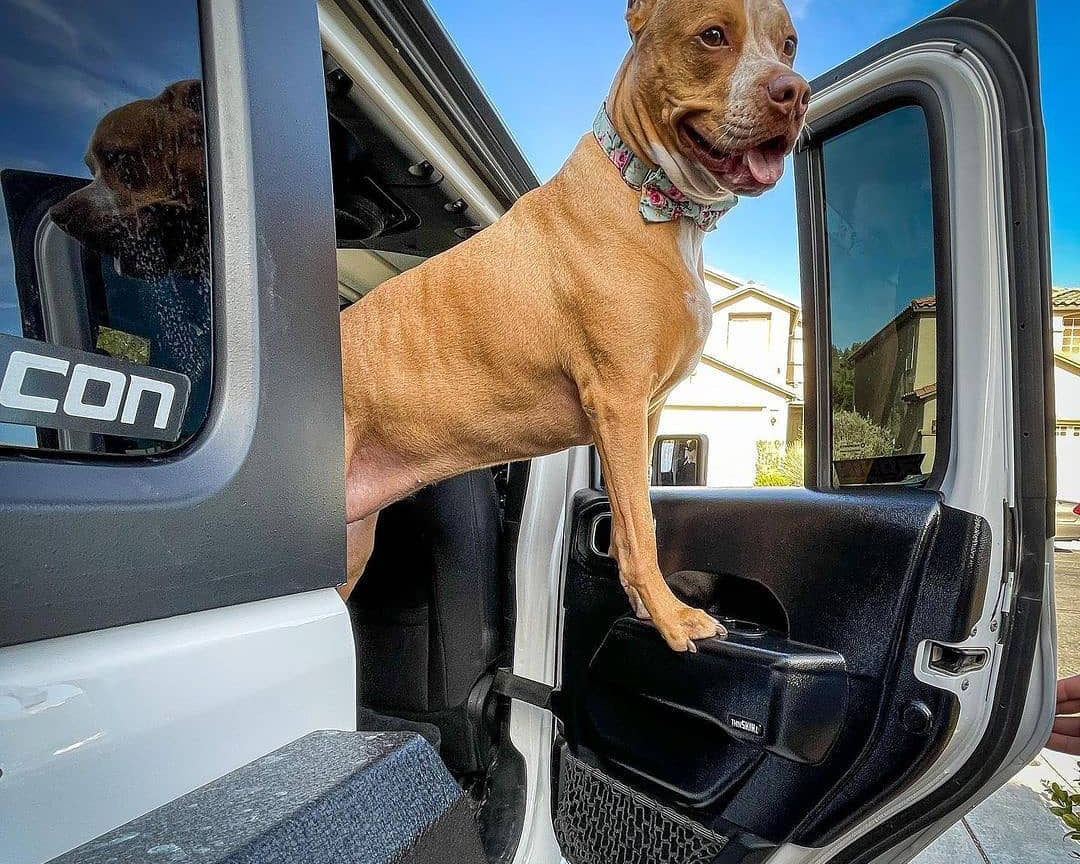 "These door shields install in literally one second with zero effort and will prevent that (love marks from puppy claws) from ever happening again. No more stressing over keeping the dogs off the doors."
@graners_garage (Instagram)
Alabama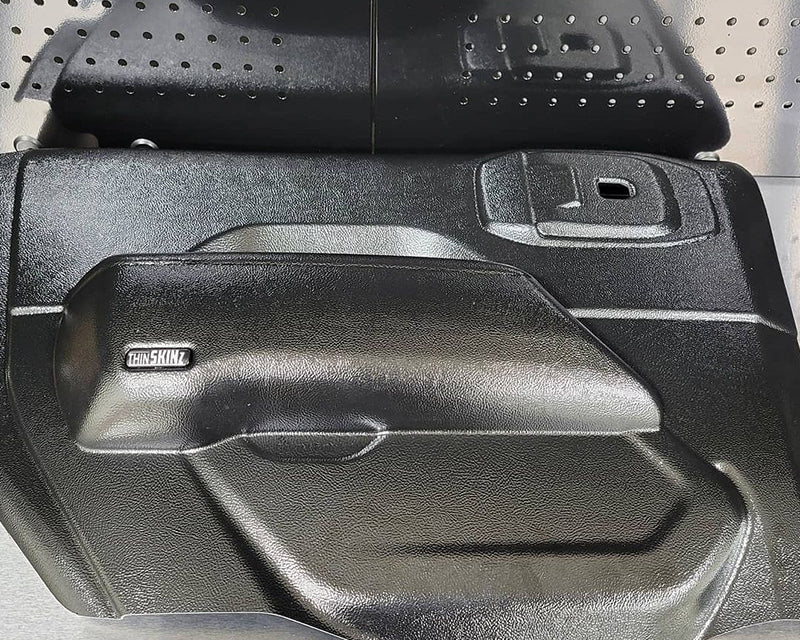 "I just replaced my Weather tech (covers) with Thinskinz door covers. Easy install, perfect fit and coverage. They look great and seem durable. And best of all they will be easy to clean. I highly recommend."
Mark N
... check out Mark's post on jeepgladiatorforum.com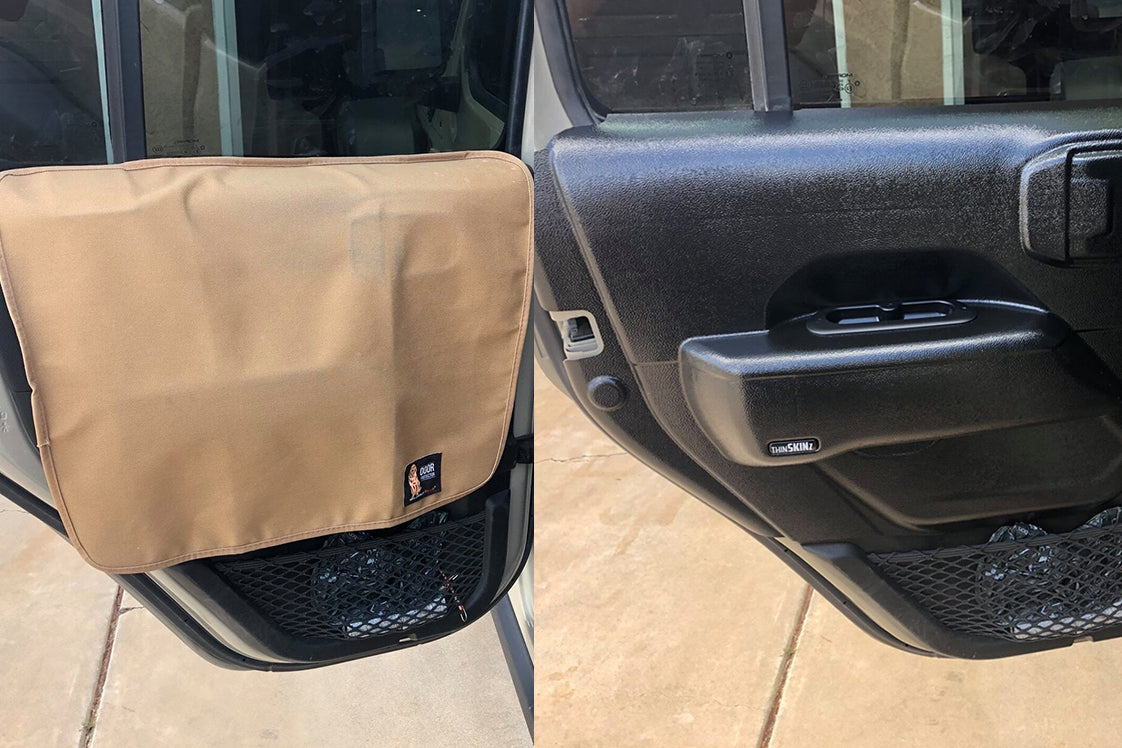 "I just received the Thinskinz. Wow! They are awesome. Super easy to install and remove. I use my Gladiator "Clifford" for work. It will be so nice to be able to put equipment or experience parts in the backseat without worrying about scratching my door panels. What a great product!!!"
Chris E
Washington
"These shields are EVERYTHING!!! Definitely the first thing you should buy for your jeep. Wish I'd seen these before Koda nailed my door and bit it. But I've had them for a while now and absolutely love them. Koda nibbled on the door just this last weekend for NO REASON. and nothing. Not a scratch. Amazing!!! They're never coming off!!!
@metsa_koira (Instagram)
BC, Canada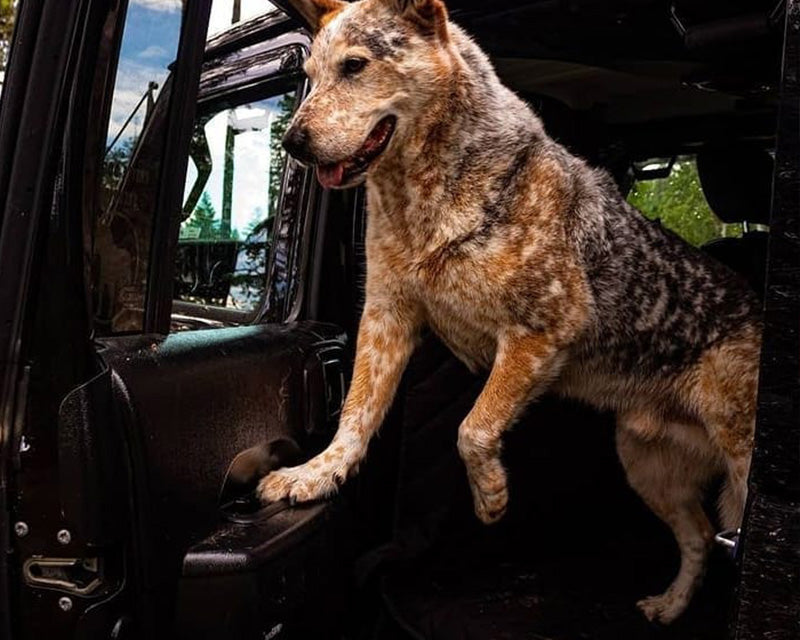 "Anyone curious about how those @thin.skinz held up on my last trip? ... These things absolutely rocked. Not only did they protect my door panels from scuffs, but they actually kept a ton of dust off them too. Pretty darn impressed and happy for a product that does what it says it's going to do. These are a must have for me going forward on any overland trip"
@advjeep (Instagram)
Orange County, CA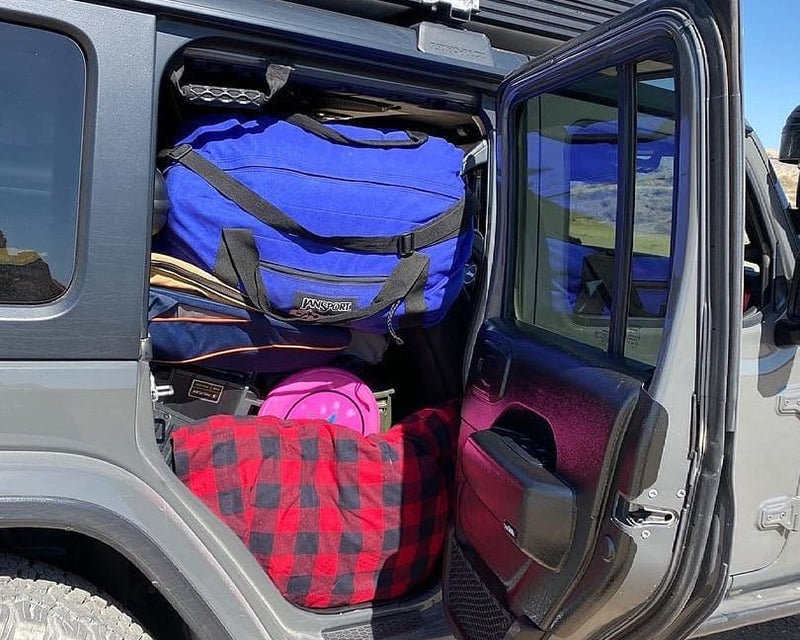 Featured on MotorTrend's Truckshowpodcast with Lightning & Holman - Episode 178
Listen to Ed & Romina of ThinSkinz® with Lightning & Holman (our spot starts at 56m:39s)